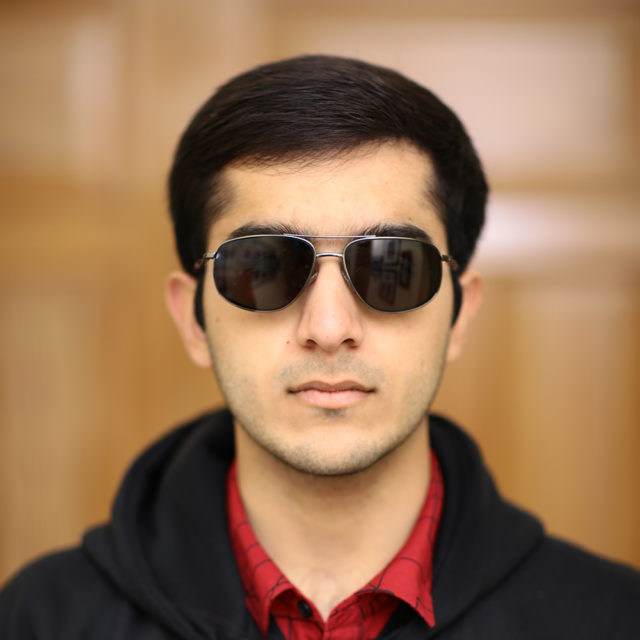 Adil Al-Karim Manji
Base Commander (2017)
City:
Karachi
Education:
The Karachi Grammar School (Former), The Aga Khan University Hospital (Current)
Passions and Achievements:
Learning Languages.
Competitive Swimming.
Volleyball, Basketball, Rowing.
Graphic Design and Music Editing.
Charity/Event Organisation.
LGS M.A.T.C.H. 3.0: Ranked 1st Place in "Space Time Equinox" Module.
Selected for the AKDN Heritage Discovery Programme.
Sindh Scouts and Rovers Group – Clifton Division.
Volunteered 100+ hours at Jinnah Postgraduate Medical Centre Karachi.
LUMS PsiFi 2016 and 2017: Ranked 2nd and 1st place respectively, in the Space Settlement Design Competition "Galactica."
Designer for the Annual KGS Grammarian Yearbook.
KGS Astronomy Society Vice President.
Director at the Annual Karachi Grammar School Science Olympiad 2017.
Recipient of Habib University's acclaimed Meritorious Award for Academic Achievement.
Youth Leader at the Eisenhower Fellowships Conference in Malaga, Spain 2017.
Volunteer at AmanVolunteers, Karachi Eat, Multiple ICKK Charity Events, Indus Hospital Carnival.
The Lyceum's Quantum Leap: Ranked 2nd Place in the Biology and Physics Modules.
Former Teacher at Abdullah Shah Ghazi Government Girls School.
Published in 3 medical journals:
"Self-Medication with Antibiotics among People Dwelling in Rural Areas of Sindh" – https://www.ncbi.nlm.nih.gov/pmc/articles/PMC4948439/
"Effects of colchicine on pericardial diseases: a review of the literature and current evidence" – https://www.ncbi.nlm.nih.gov/pmc/articles/PMC4942520/
"Validity of the Diabetes, Hypertension and Hyperlipidaemia (DHL) Knowledge Instrument among Medical Students of Karachi" – http://www.ccsenet.org/journal/index.php/gjhs/article/view/61607

Moiz Amer
OC Flying
City:
Islamabad
School:
Super Nova College
Passions:
Golf
Accounting and Finance
Automobiles
Reading
Running
Card Games
Volunteering
Physics
Watching Documentaries
Aerospace
Travelling
Politics
Psychology
Controversial Shows
Achievements:
A Level Scholarship.
Awarded High Achiever in all academic Years.
Scored 2 hole-in-ones.
Learner Distinction in Physics.
Learner Distinction in Mathematics.
AICE Diploma Distinction.
Distinguished Alumni Guest at Global Young Leaders Conference.
1st Position at School Biology Competition, PEISG (2014).
Winner at Pronto Grand Prix, Pakistan's First Car Race Event.
Vice President at Roots Space and Science Society.
Awarded Human Calculator.
Deputy Director of Human Resource MMUN'16.
Awarded All-Rounder.
Intern at Serena Hotels.
Intern at Serene Air.

Summaiya Rasheed
Wing Commander
School:
St. Joseph's Convent School (former) The lyceum school (current)
Passions and achievements:
To serve Pakistan, through the armed forces,
Throwball, Basketball
Learning Arabic
Athletics, competed in and won accolades in multiple across the city and country athletics competitions,
Won best athlete in 2017 (At SJC),
Appointed responsibility of the 'blue house' for the Annual sports at St. Josephs, won 'Best March Past' and 'Best House,'
Participated in and won accolades in ad-lib declamations, elocutions, and Model United Nations,
Served as an organizing team member at The Lyceum Debate Competition,
Served as an organizing team member for 2 years at St. Joseph's Convent's annual computer, art and science competition,
Participated in the Enterprise Challenge Pakistan in 2016 and qualified to the semi-finals,
Acted, directed and wrote multiple plays (2012 – present),
Taught at The Citizens Foundation schools, and Bharia College Karsaz special children wing, as a volunteer,
Volunteered at multiple NGOs (2014-present), The Indus Hospital, The Citizens Foundation, Child Health Foundation, Dar-ul-Sukun,
Karachi Grammar Science Olympiad 2017: ranked 2nd in the crime module,
Completed courses by the Prince's Trust in database, desktop publishing, word processing, and spreadsheet;
Participated in Buraq 2015 and was part of the winning wing,
Served as Wing Commander in 2017,
Qualified National Science Talent Competition (Physics),
Elected to serve as 'Elected Representative' in the Student Council at The Lyceum,
Active member of a team helping to start 2 schools in Balochistan,
Intern at Integrated Dynamics Aerospace.

Raphael Khalid
Wing Commander
City:
Islamabad
School:
Froebel's International School Islamabad
Passion/Hobbies:
Debate (MUNs, Parliamentary Style and Declamation) and Graphic Design, Beatboxing
Significant Achievements:
Ranked at debate tournaments at national level

Aman Ullah
OC Engineering
City:
Islamabad
Institute:
CS major from NUST Islamabad
Passions/hobbies:
Particularly interested in the tech industry, latest trends, and emerging technologies, which is why I decided to pursue a CS degree
Love teaching, because I have a way with it and getting through to people.
have deep rooted interest in physics music
Film scoring and music production
Have been freelancing
Achievements:
Worked with PIF for a couple of months, arranging workshops, activities and short courses for the youth in 2015
Contributed and played an active role in the web and application development of Patari
Currently leading the project of developing the cellular device based application for the CSD grocery stores chain
Worked with FACE (foundation of arts and cultural education)

Muhammad Rafay Kazmi
OC Personnel
City:
Kamra, District Attock
School:
Roots IVY International School F-8 Campus
Passions/Hobbies:
I love math
To me, music is more than just a hobby, it's an inspiration, a purpose.
I'm a guitarist
I love Literature
Physics is one of my favourite subjects and I plan to pursue it and do Electrical Engineering later on.
Apart from studying and music, I maintain a good healthy lifestyle. The gym is my workplace.
I prefer to dress my best at any given moment. You could say I'm sensitive about my dressing sense.
I want to work towards solving the energy crisis currently ongoing in my country through widespread usage of renewable energy resources.
Other Notable Achievements:
I was a cadet in the 12th Buraq Space Camp and now am OC Personnel in the 14th Buraq Space Camp.
I went to Columbia University in NYC on full scholarship and did an introduction to engineering course. It was about solar power. My solar oven group project broke all course records and is currently the best mechanical design. My second project, which was about designing a solar kiosk for a specific area, was ranked as most practical and likely to be implemented in the near future by my course professor.
Although my interest in debating isn't much, I have 2 outstanding diplomacy awards from FROMUN (Froebel's Model United Nations)

Alina Salman
OC Admin
City:
Karachi
School:
Nixor O'level
Passions:
Current Affairs
Literature
Debate
Travel
Astronomy
Biotechnology
Mathematics
History
Achievements
Member of the Junior Academy, Global STEM Alliance, New York Academy of Sciences
Buraqian'16
OC Admin'17
Debate Captain